Effective integration of technology can be difficult. So when I found the table below I thought it was a useful resource to share with teachers that helped to explain the difference between merely using technology and fully integrating it into your teaching. The table was created by Aditi Rao and posted on the website Teachbytes which can be viewed here.
I think that the way that this table explains the differences between 'just using' technology and 'integrating' technology is very relevant at PBAS now. Sure we have had ICT's at our school for a long time but with the inclusion of the iPads I think we need to carefully think about how we use this new (new to our school at least) technology.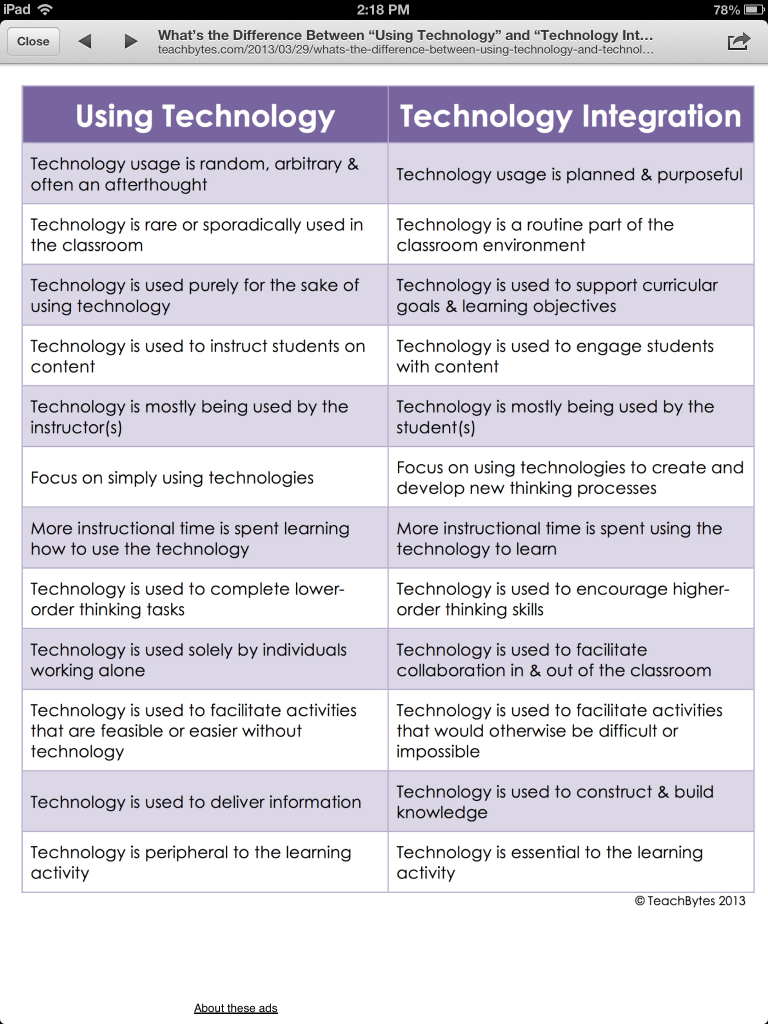 There is no doubt the iPads are engaging, so how do we integrate their use so that the engagement factor is taken advantage of while ensuring student learning is front and centre?
This will take time as the novelty of the iPad means focus is on the 'iPad' – for a while at least.
When the novelty wears off hopefully the iPad becomes another tool with a powerful impact.
Staff development is important. Staff knowledge of how to use the iPad to improve learning needs to be developed. Sharing is important.
Ensuring that we treat the iPads as a tool for learning and that when we use them it is planned and structured in a way that tells students the iPad is for learning. It is not there to keep them quiet or to keep disengaged students busy while we work with the engaged students.
I think the days of 'visiting' technology, i.e. a computing suite are numbered. They don't allow for true integration of technology in learning. With the correct infrastructure mobile technology offers a much better platform to support student learning whether this is via Chromebooks, MacBooks, iPads or iPod's does not matter. Mobile technology allows the learning to be front and centre because the technology is more easily accessible as opposed to visiting a computer suite which often then dictates the learning i.e. lets learn Power Point, lets make pamphlets, lets learn how to copy and paste, so we work the learning to fit with the technology not the other way around.
How do you integrate technology and how will you integrate the iPads so that they improve student learning? Will you have lessons that are iPad lessons i.e. every Tues and Thursday in lesson 3 we will use the iPads? Or will you use the iPads as they are required, not as the focus, but as the tool that will engage, challenge and support student learning?