The purpose of this post is to:
1. Develop teacher knowledge of some basic Google Search tools so that you can show students how to refine and improve their searches.
2. Propose a consistent process and understanding of using  footnoting and bibliographies.
Google Search
Most of our students type straight into the Google Search bar and hope for the best, most of us probably do the same. To improve our students use of Google Search we need to make them aware of the functions available to them and how those functions can improve their searching.
For the purpose of this post I will just focus on Web and Image searches, being the two most common searches that students do. There are other search options which appear at the top of the Google Search page as seen below.
Web Search
In the tool bar below there is the option to select Search Tools. This provides a wider range of options to help you improve your search. When you click on Search Tools while doing a Web search it will look like this:
Any country – Select Any country or Australia to narrow your search to Australian information.
Any time – Select a time frame. Ideal if looking for information from a particular point in time. Also great for filtering out old information and getting the most recent articles on a topic or issue.
All results – Select from All results, Reading level or Verbatim. Reading level will break your search down into Basic, Intermediate and Advanced reading levels. Excellent for students looking for articles at their reading level.
Another tool is Advanced Search which incorporates all of the above and more. Advanced search can be found by clicking on the cog on the right hand side of the Google Search Page. See below.
Once you click on Advanced Search you then have a range of options to narrow your search. Some of these are the same as above. Others included in this option are:
Exact word or phrase – Will search your exact phrase.
None of these words – Excludes any word you type in.
Language – Get articles in a specific language.
Region – Search articles specific to a country. Example – Find articles about Gallipoli from a Turkish perspective.
Safe Search – Filter explicit material out.
File type – Looking for a specific file? Example – only want JPEG images or searching for Power Point presentations. Narrow your search to the exact file type you want.
Image Search
An Image Search provides some similar tools as well as a few different ones to those found when doing a Web Search. See image below:
Size – Select the size of picture from small 'icon' images to large images.
Colour – Select by colour.
Type – Select type of image, Face, Photo, Clip Art, Line Drawing, Animated.
Time – Select a time period.
Usage rights – Allows you to select images that have been labelled for reuse by the original owner. Allows user to avoid copyright issues.
The Advanced Search option can also be used when searching for images.
Please note that the above information is based on using Internet Explorer 10 and above. At the time of posting the library computers and Suite 2 have Internet Explorer 10 (except the teacher computer and the one near the printer). Suite 1 currently only has Internet Explorer 8 which means that Google Search looks different. For example:
some options including the ability to select Reading Level are not available.
Advanced Search is available but not in the same place. Scroll to the bottom of the Google search page to find the Advanced Search link.
Suite 2 will be upgraded to Internet Explorer 10 at some point.
Footnoting and Bibliography
It is important for students to cite references when undertaking research tasks or issues studies i.e. many Stage 1 & 2 subjects have Issue Study tasks.
Footnoting
When do I have to footnote?
You should use evidence (citations) any time you make a claim that is not based on a well-known fact or common knowledge.
You make a claim that could be challenged.
You quote somebody.
You make a specific claim that is not common knowledge.
You paraphrase information from a source (give the meaning but change the wording).
Offer an authoritative (expert) opinion.
You got an idea from somebody else, even through email or conversation.
Information from: When to Cite a Source – Knowing When to Support Your Statements. Click here to see this full article.
How do I footnote?
Click on this sentence to help you understand how to insert a footnote in Word and what to include in a footnote. 
Creating a Bibliography using an online tool
Cite This For Me is an easy to use website that allows students to create bibliographies and then download them into their Word documents. Click on the image below to go to the Cite This For Me site.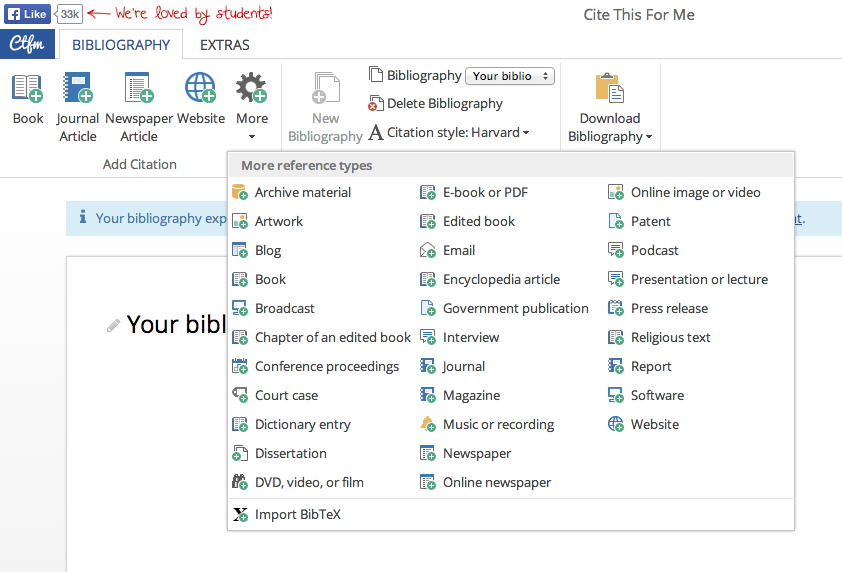 My suggestion is that we decide on some standard tools and information giving teachers a base to work from when helping students understand how to footnote and create bibliographies. It would be appropriate for this to be further discussed in a future staff meeting.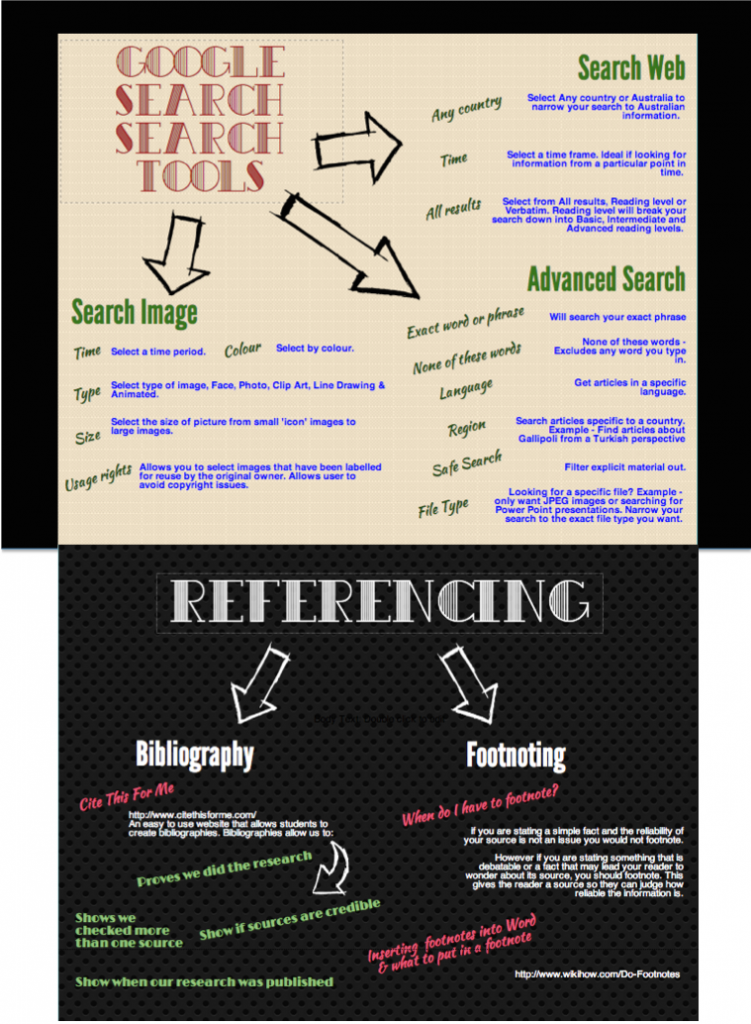 Two useful options for all students but in particular special needs students