There are significant benefits to communicating a child's learning to parents outside of the traditional term report, take home book and parent teacher interview. This post looks at two ways to engage parents and caregivers beyond the traditional structures schools put in place to connect student learning with home.
The following are benefits resulting from increasing parent involvement in a child's learning:
Children tend to achieve more, regardless of ethnic or racial background, socioeconomic status, or parents' education level.
Children generally achieve better grades, test scores, and attendance.
Parents have a better understanding of the teacher's job and school curriculum.
Parents' perceptions of the school are improved and there are stronger ties and commitment to the school.
When schools have a high percentage of involved parents, teachers and principals are more likely to experience higher morale.
Teachers and principals report an increase in job satisfaction.
Schools that actively involve parents and the community tend to establish better reputations in the community.
To see another 16 reasons why engaging parents with their child's learning is important click on the following link: Excerpt from Home-School Relations: Working Successfully with Parents and Families, by G. Olsen, M.L. Fuller, 2008 edition, p. 129-130.
The following two communication methods are practical examples of how classroom teachers can connect with parents. Both methods have been successfully used this year by Kelly and Ange.
Kelly uses the Seesaw app  (available on Apple and Android devices) which allows moments in time to be captured via image or video along with student or teacher comments and made available instantly to the parent of that child. If time does not allow for sharing instantly then video, images and comments can be uploaded later at a more convenient time. It allows Kelly to create portfolios of work for each child with control over what is posted, who can see it and when it is posted. These portfolios can be divided into subject folders.
The benefits that Kelly has found by using Seesaw over traditional take home books include:
The ease at which information can be sent home.
An instant connection with parents. Parents will often comment on their child's work the same day it is sent.
It provides parents with a more regular up date of their child's progress as opposed to a take home book that only goes home at the end of each term.
The regular nature of sharing student learning allows parents to have better informed conversations around their child's learning at home.
Seesaw allows video to be used which is much more powerful (at times) than static work samples or images found in a take home book.
Kelly no longer has to store and keep track of a take home book for each child.
Kelly no longer has to spend time cutting and gluing work samples into a take home book.
NIT teachers for Kelly's class can be connected to the account and add to student portfolios.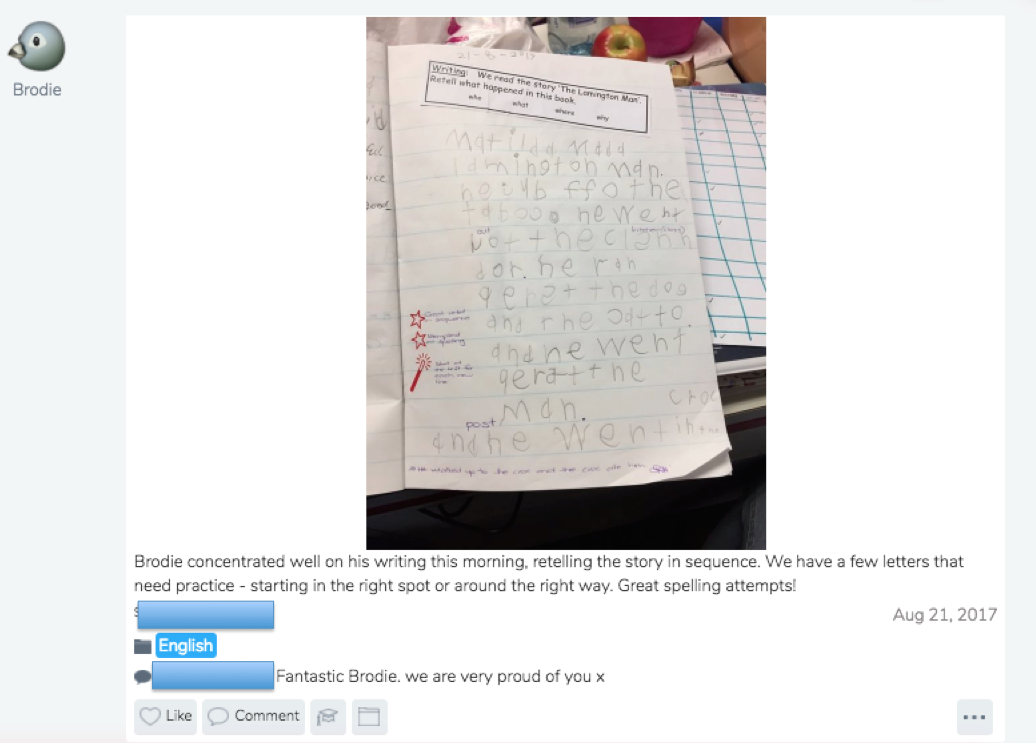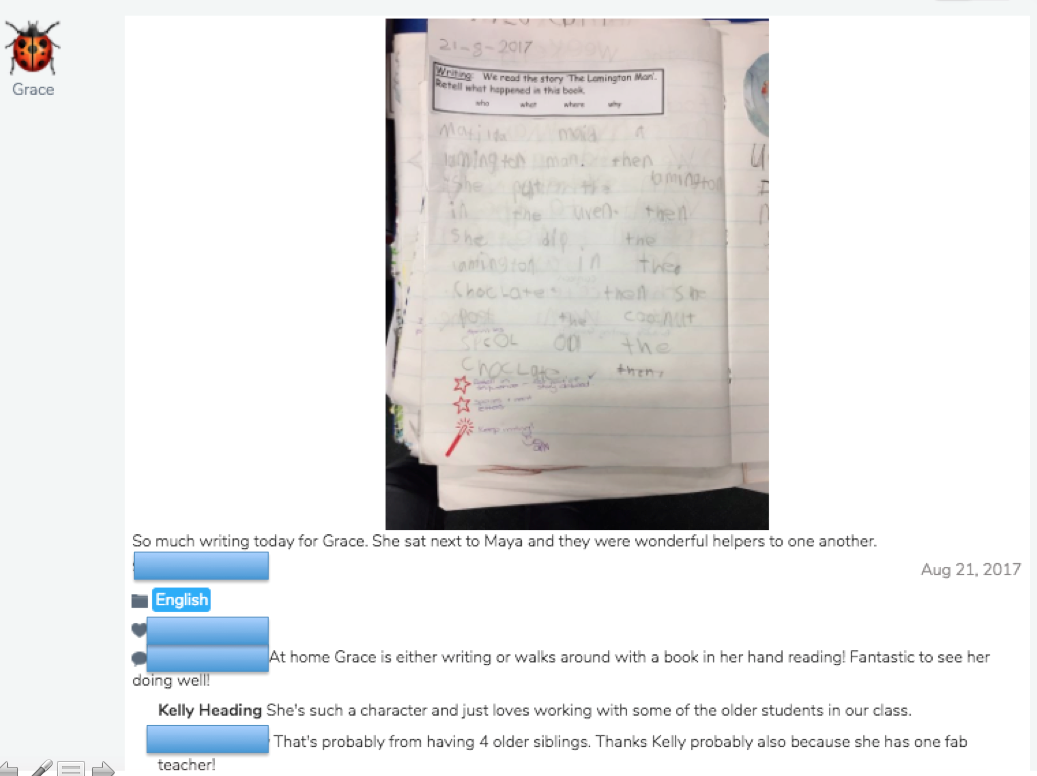 On Thursday of week 10, term 3 Ange invited parents in for the last lesson of the day to have her students show parents some of their learning. This began by showing parents Mindset videos students had made around the topic of maths. This was very powerful as not only was it reinforcing the importance of mindset to students but it was educating parents at the same time. This means that a certain level of consistency has been created between what students are learning and what parents understand to be happening in the classroom. Students then took parents out into the wet area and demonstrated their coding skills with the Bee Bots. The students final task was to show their parents two Keynote presentations which had been made on the iPads. Students had to go through their presentations explaining the content they had created. One presentation was on spiders and the other on a country of the students choice.
Ange's classroom was packed with parents and caregivers all keen to see what their child had been doing. Every child had an adult attend.
Having had conversations with the parents and teachers involved in these communications methods it is clear there has been some significant upside including improved parent understanding of the curriculum and the teacher's role, improved parent perception of the school, improved parental engagement in student learning and a sense of job satisfaction felt by the teacher.