I see potential for all of these apps to extend students creativity and engage them in their learning. The music apps excite me the most. Not being a music teacher I can still see the potential of every student in a music class having an iPad with a variety of instruments that students have learnt a song on and being used to record that song. Think of an instrument and search for it in the app store, chances are there will be an app for that instrument. Baby DJ is cool and my kids love playing this and creating their own beats and saving them. While the animation apps PuppetPals and Toontastic allow students to create clever little animations (in app purchases required for Toontastic). iMovie turns the iPad into a video editing suite that allows students to create movies with the one device – brilliant! iMotion uses stop motion technology – take photos every 1 sec (you can set your own times) and put them together to create little animations. Use Lego characters with iMotion to create a short iMotion story. Book Creator and Story Kit allow students to make and share their own stories, procedures, reports etc by inserting text, images, sounds and video. The descriptors below are from the Apps store.
GarageBand turns your iPad, iPhone, and iPod touch into a collection of Touch Instruments and a full-featured recording studio — so you can make music anywhere you go. Use Multi-Touch gestures to play pianos, organs, guitars, drums, and basses. They sound and play like their counterparts, but let you do things you could never do on a real instrument. Enjoy a range of Smart Instruments that make you sound like a pro — even if you've never played a note before. Plug an electric guitar into your iPad, iPhone, or iPod touch and play through classic amps and stompbox effects. Gather your friends to play and record like a real band with Jam Session.* Use the built-in microphone or a guitar to record or capture any performance. Then mix up to eight tracks to create a song you can share in email or send directly to Facebook, YouTube and SoundCloud.
Hangdrum
This drum sounds awesome! Mandala hang drum is the first simulator of the 1st generation hang drum for iPad & iPhone & iPod Touch!
Baby DJ
Baby DJ is a music app for kids and their parents. — Bright, fun and user-friendly interface for beginner DJ — 17 children's songs in our own 9-track format — New songs every week — Record your own mixes and Baby DJ World Top on http://babydj.ru — Baby DJ has been completely revised in version 2.0 — Original melody and beats sync system — Vinyl mode and scratch — Track Volume Control System on the iPad.
iMovie

Make beautiful HD movies anywhere with iMovie, the fast and fun movie making app that puts everything you need to tell your story at your fingertips. Browse and play projects in the Marquee view. Create Hollywood-style trailers or sophisticated home movies in minutes.* And share your finished projects with the world – right from iMovie.
iMotion
iMotion HD is an intuitive and powerful time-lapse and stop-motion app for iOS. Take pictures, edit your movie and export* HD 720p videos to your device or directly to Youtube. Time-lapse is a cinematography technique which accelerates movement. It can be used to photograph cloudscapes, plants growing, crowds… Stop motion is an animation technique which makes a physically manipulated object look like it's moving on its own.
Toontastic
Lights, Camera, Play! Toontastic is a storytelling and creative learning tool that enables kids to draw, animate, and share their own cartoons with friends and family around the world through simple and fun imaginative play! With over 2 million cartoons created in over 150 countries, parents and teachers rave about the app… and kids can't stop creating!
Puppetpals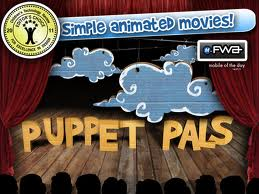 Simply pick out your actors and backdrops, drag them on to the stage, and tap record. Your movements and audio will be recorded in real time for playback later.
This app is as fun as your own creativity. Act out a story of Pirates on the high seas, fight as scary monsters, or play the part of a Wild West bandit on the loose. You can even combine any characters however you want!
Book Creator

The simple way to create your own beautiful iBooks, right on the iPad. Read them in iBooks, send them to your friends, or submit them to the iBookstore. Ideal for children's picture books, photo books, art books, cook books, manuals, textbooks, and the list goes on.
StoryKit
To create your story:
* Write some text.
* Illustrate by drawing on the screen, taking a photograph of something you see, or drawing on paper and then photographing the paper, or attaching photos from your album.
* Sounds can be recorded for telling your story or as sound effects.
* Layout the elements of your story (text boxes, images, and sound clips) freely by dragging them or pinching to resize.
* Add, reorder, or delete pages from your book.