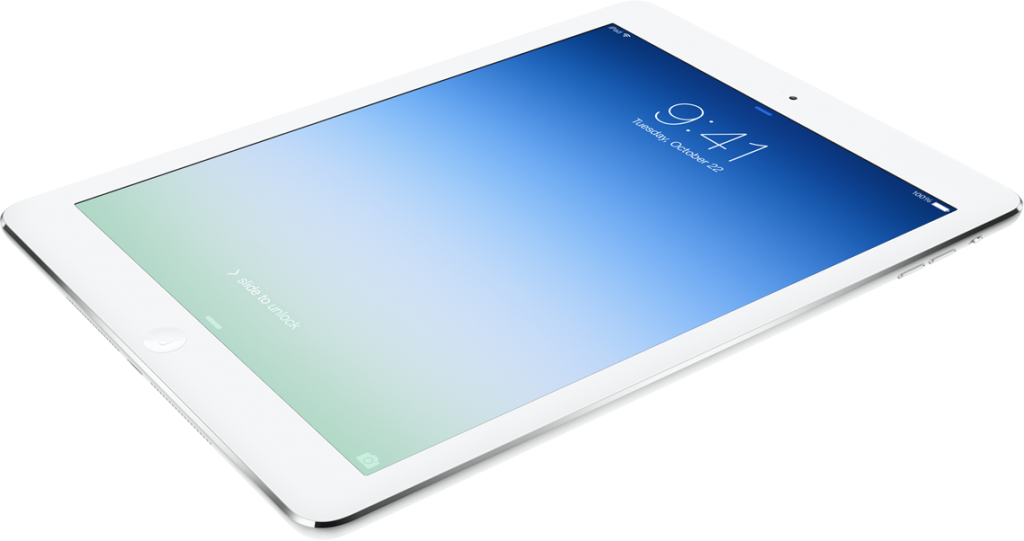 There are a range of apps and tools that I use with my iPad to assist student learning.
Obviously having one iPad in a classroom has its limits so once we get our class set up and running the flexibility and independence the students will have with their learning will be significant. My use use of the iPad is subject specific to HPE but there will be ideas that are transferable.
Apple TV, Wireless Router, Speakers, Data Projector
These tools allow me to use my iPad in the gym effectively. They are also easy to use as they are permanently set up on a trolley. Once the power is turned on the Apple TV and iPad/iPhone connect with no prompting. I can project video, student work or presentations onto a large screen in the gym to assist my students learning. The Apple TV allows me to do this wirelessly which is brilliant. A great example of the benefit of wireless connectivity is when I work with the JP students. I use a lot of music to encourage movement and engagement. Instead of having to have my phone plugged into the stereo I can walk around the gym and be with the students and still control the music.
So what apps do I use as a HPE teacher?
iMovie
I produce videos for my senior PE students to assist with their learning. I have made multiple videos explaining concepts from skill progression to components of fitness and body systems. Making instructional videos for students could be done in any subject for any year level. To store these videos I use various places on the Internet including You Tube.
I make videos to share what happens in my junior PE classes with parents by uploading these to You Tube and embedding them on my juniorhpe blog for parents to view. Click here to visit this blog.
I have downloaded Just Dance videos from You Tube, put them together in iMovie to create one file and then played these through Apple TV to use with students. This has been very engaging and a great way to teach dance to students. Click here to view my Year  1/2 PE students using Just Dance.
TimeMotion and DartFish EasyTag
These apps provide a simple and easy way to collect data during games and then analyse and reflect on that data to help improve student knowledge of things like movement, tactical play and use of skills.
Ubersense/Coaches Eye/Coach My Video
Using these apps I am able to assist the development of student skills through video analysis. Ubersense in particular has the ability to compare two videos side by side. All have a variety of tools that allow for analysis of video.
Fotobabble and PixnTell
Students are able to record photos of skills, or games and add audio over the top. Fotobabble allows one photo at a time while PixnTell allows multiple photos to be put into a sequence with audio. Great for analysis and reflection.
Giant Scoreboard, G.A.P.S., CoachNote, Badminton, PE Plus, PE Games, Group Games and TGfU
These apps provide me with a range of tools and resources to assist me with my PE lessons. From Giant Scoreboard to apps like PE Plus & TGfU that have a range of games and activities on them grouped by sport or skill type.
CardioBuddy, This is my Body – Anatomy, Virtual Heart, 3D Brain, Skeletal 3D and a range of other anatomy apps (there are so many)
CardioBuddy allows measurement of heart rate, while the anatomy apps are useful for my older students to review body systems. This is my Body – Anatomy is a great app for JP/Middle primary students.
Workouts, FitDeck Junior and Ripdeck
These fitness apps provide a broad range of fitness based activities. They allow the user to run pre made circuits to custom made ones at a variety of intensities. I have not used these yet with students but intend to very soon. I have some disengaged girls in my year 9/10 PE class who have said they would be interested in doing some fitness based activity instead of the current traditional sports unit. My intention is to get them to design their own fitness routines and provide time in and out of class to improve their fitness.
These are the apps that I have found to assist me with helping students learn in HPE. It has taken a while and often trial and error has been involved.
I can't wait to get the class set up and running and see how it further enhances student learning in my classroom and is utilised across the school. What apps have you found that work for you?