My Year 9/10 health class are continuing to use Twitter to share and discuss their term 4 topic drugs and alcohol. We have been focusing on the legalisation of medical marijuana over the last few weeks.
For those interested in reading what my students have been tweeting I have embedded the #910DA Twitter feed into the blog (scroll down its on the left hand side).
Students are on a steep learning curve about how to tweet effectively and not all tweets have been accurate! One student account misread an article and their tweet reflected this. They had also not supplied the link to the study they were quoting. When asked they did provide the link and I was able to help them understand what the article actually said. I've inserted the conversation below.
It is this type of conversation that has led to face to face conversations in the classroom about being accurate with what we post. For example some of the statements in the image below are flat out lies that falsely promoted a positive view of marijuana i.e. marijuana cures cancer. As a class we were able to view the graphic and talk about what we thought was accurate and what we thought was inaccurate and why. We also discussed how posting something in this way says we agree with the content and if the content is inaccurate it reflects on us.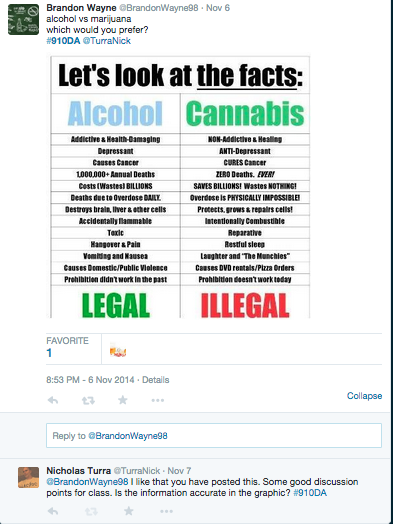 A benefit to using this method of communication was realised when I was absent from school and missed my weekly 9/10 health class. The lesson I set for the relief teacher involved students responding to links I had sent them via Twitter. I was able to sit at home and see who was engaging in the activity and respond to student tweets, all in real time. I was there without physically being there. Below are some examples of my interactions during this lesson.