ACARA has recently released work sample portfolios for the Arts, Technologies and HPE. The release of these work samples coincides with the development of a new resource page on the Australian Curriculum website. This page allows teachers to access these samples in a much more interactive and useful way than the original downloadable PDFs released with the English, science, maths and history curriculums. This new resource page is called Australian Curriculum: Work Samples.
The new work samples page is limited to Visual Arts (F-6), Design Technologies (F-6), Digital Technologies (F-6) and Health and Physical Education (F-6). Any portfolios for subjects published prior to 2016 (English, maths, science and history) can be found as PDF documents below the year level achievement standards in each learning area.
The new page provides a more interactive way of engaging with work samples including video examples of student work. Improvements of this new system include:
The PDF annotations are more easily linked to the student learning in the PDF. By scrolling over the number on the PDF the corresponding annotation is highlighted.
Video samples have been introduced providing greater flexibility to display student learning.
Easy comparison of Above, At and Below standard of the same task. In the example below the Satisfactory sample is displayed while thumbnails of Below and Above are also accessible.
A search function allows you to quickly filter subject, year levels, portfolio level and keywords.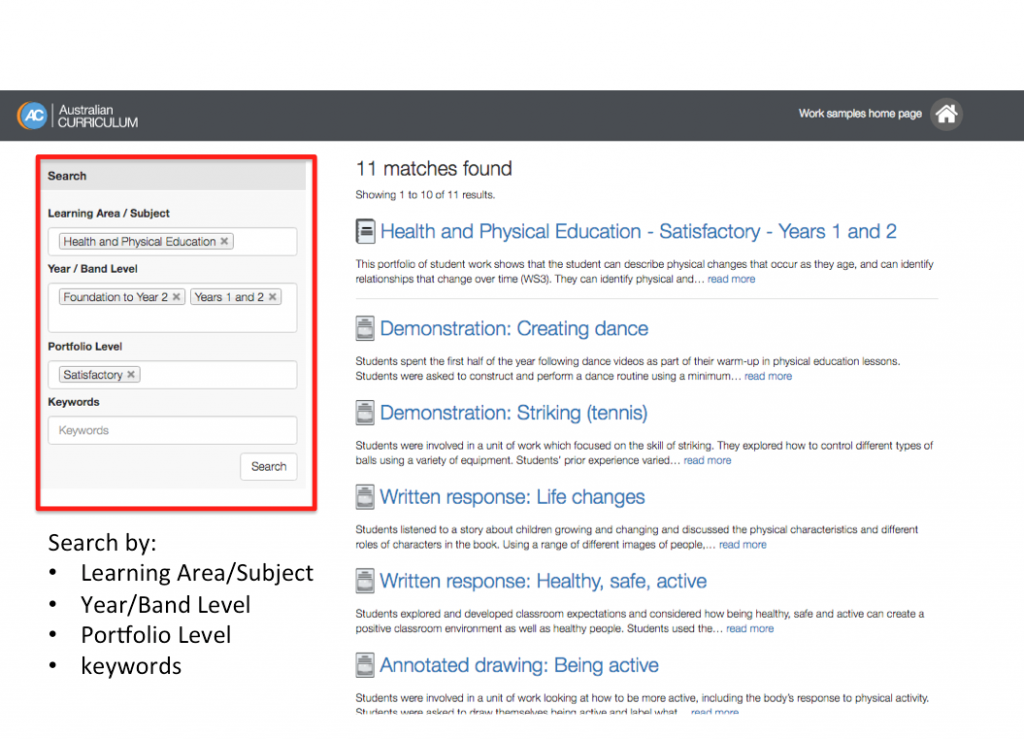 Easy movement between all tasks in a specific portfolio.
In the coming months work samples for HPE 7-10 will be added while the Arts – Dance, Drama, Media and Music F-6 will also be available soon. I have not been able to find any information relating to the Arts and Technologies 7-10 and when these portfolios will be available.