Thanks to Jackie and Kelly for introducing us to the Sphero robots last Wednesday. As a follow up here is an overview of what is available on the Sphero Edu app. Currently the filtering at PBAS does not allow content from the Sphero website to appear on the app but I have requested that the filtering be changed to allow the content. So be aware that at this point in time you cannot access the following but very soon will be able to.
Home – Feed
This shows the Twitter feed for Sphero Education.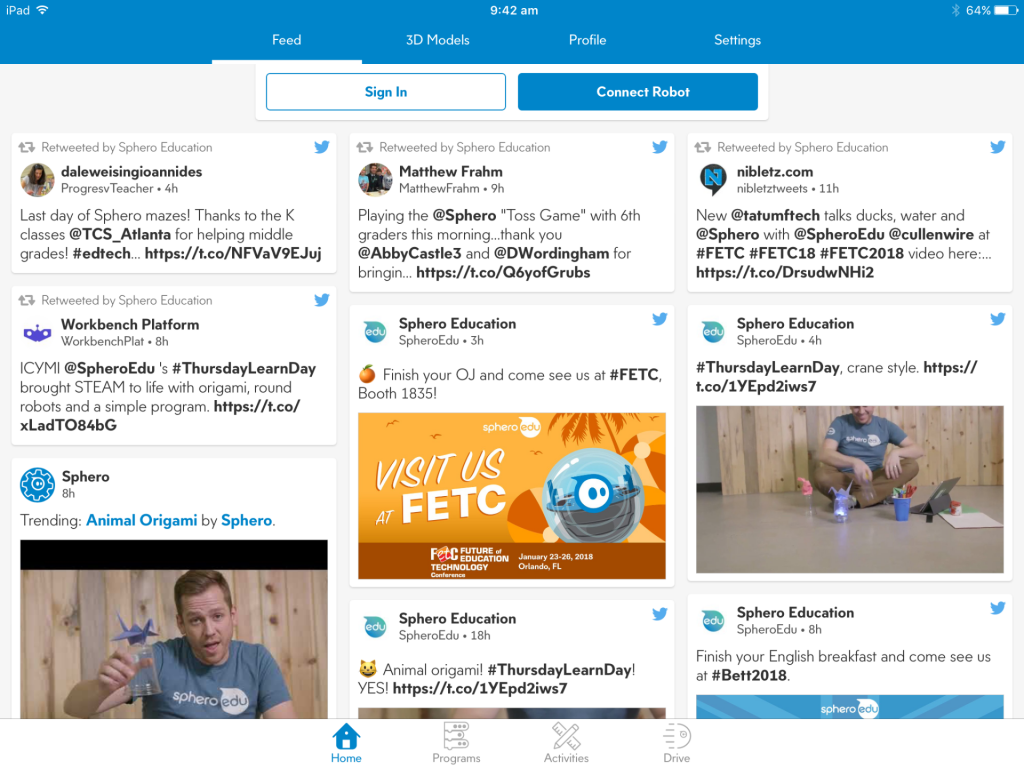 Home – 3D Models
This section allows you to see an exploded view of the Sphero.
Home – Settings
The settings section gives you a variety of options including links to the Sphero blog and JavaScript Wiki. So if you are keen to learn about JavaScript (written code) this may be useful.
Programs – My Programs
This is where the programs that you or your students make will be saved.
Programs – Sphero
This is where you can access programs created by the employees of Sphero. When you click on a program you get a written explanation of the program and a video to watch. There will be a link to open the code that has been written. The code will open in the Sphero Edu app and can be used by you or your students. This option allows students to invsetigate and analyse detailed coding. I have included a video below of the Animal Origami program.
Programs – Community
These are programs provided by the community of Sphero users who have submitted their programs to the website. Again you get a written explanation, a video and a link to download the code. To access the community programs you need to sign in with an account. It is a simple process to create an account for yourself.
Activities – Sphero
This section provides activities for teachers to do with their students. You need an account to access these in full. A great source of ideas!
Activities – Community
A huge range of STEM based activities created by the Sphero community. An excellent resource for teachers. I recommend signing in and and having a look at these. They provide step by step lesson plans and extra resources like videos and web links to support the lesson. I have added a video below that briefly shows the K'nex Chariot Challenge. While the video is not brilliant it gives you an idea of what you can expect to find when you access this content.